We may earn money or products from the companies mentioned in this post.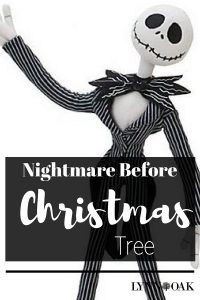 I'm thinking about Halloween and wanted to decorate a tree this year with some kind of theme. After a short look at pinterest I found what I was looking for and it's going to be a Nightmare Before Christmas Tree. Doesn't that sound awesome!
First I'll need a tree, maybe a black one or orange or maybe even white. The ornaments and a skirt to go around the base, lights of course. I'm excited now! I don't want it to be too big.
It needs to be nice looking and a little bit scary, but not so scary that it will scare my niece. I want her to like it and want to help decorate it with me. Let's get started looking!
Tim Burton's The Nightmare Before Christmas

This would be great if your in a hurry and don't have much room for decorations. It's small and has everything you need, Ornaments, Lights. Easy to put up and take down. Nice little decoration with my theme I wanted!
Orange Nightmare Before Christmas Tree

I love this orange tree! I would decorate it all up with my theme It even comes with lights, Sweet! I'll just need to add the ornaments and we're all set.
Nightmare Before Christmas tree ornament set

This is a really nice assortment of ornaments, eight pieces in this set with all my favorite characters in it. Super cute too!
Nightmare Before Christmas Tree Jack Ornament

I love this Jack Ornament, super fun, I'll probably order a few of these to decorate with. Love that he's going down the chimney.
Nightmare Before Christmas Blue Tree

This will be amazing with my ornament set! I'm picking this one, I love the blue color and I can also use it for Christmas and put Doctor Who ornaments on it. Nice!