We may earn money or products from the companies mentioned in this post.
Girl Redneck Halloween Costume Ideas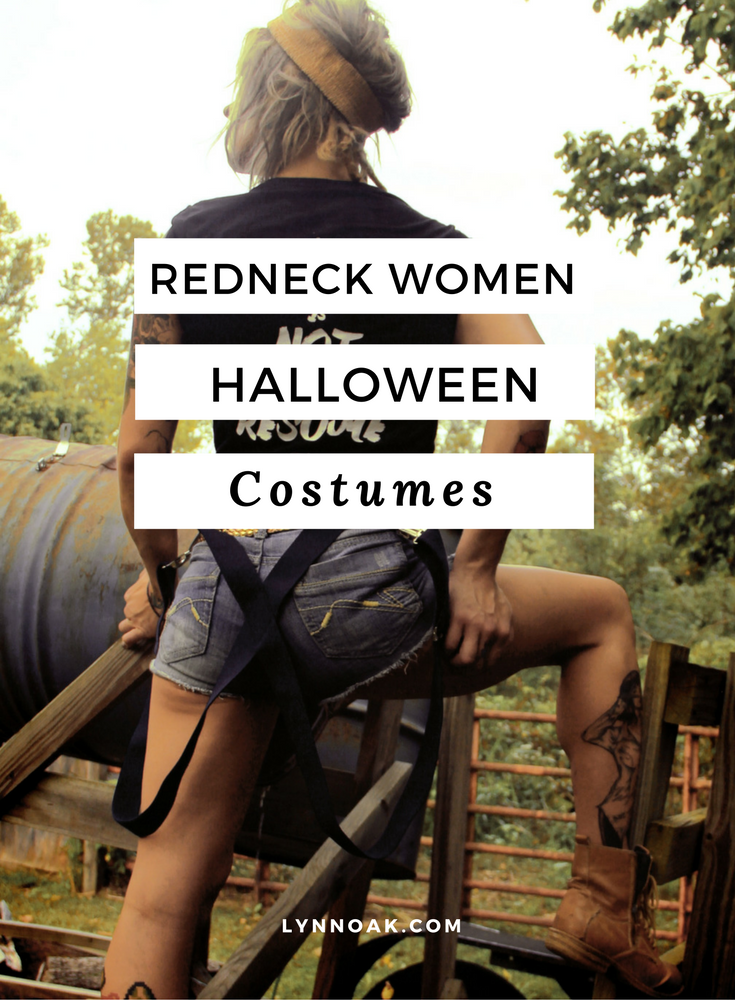 I love Halloween! And I love to dress up too! I'm always a cat, don't know why but it's just what I gravitate towards for some reason. I'm going to do something different and I need to get started looking for some Crazy Girl Redneck Halloween Costume Ideas on pinterest. And boy did I find some crazy pictures! They are so funny too!
Womens Hillbilly Costume




This has to be one of my favorite's! This girl had it all going for her and it's so easy to do and still look awesome! She did up her hair in the traditional beer can rollers, her makeup is on the heavy side but still looks awesome. I love her tattoo T-Shirt, it really looks like she has tattoos on her back.
My favorite thing is the ankle bracelet! ~Home incarceration Ankle Monitor is so funny! The ratchet earrings, looks awesome too. Her fake leather pants with lace is perfect for the outfit. I just love this whole look it's perfect!
Most stores are out of stock of the Fake Ankle Monitors Check Here To See if They Are Back In Stock!
Girl Redneck Jewelry Halloween Costume

Tattoo Girl Redneck T-Shirt Halloween Costume

DIY Redneck Lady Costume


I thought this one was too funny too! Our Gal has the old stand by beer hair curlers, red flannel shirt, short shorts and work boots on. But she did something funnier and added "HER MAN" which is a blow up man with a sign tied around his neck that said "My Cousin/Husband Earl".
Hysterical!
Redneck Lady Costume Prop White Trash Hat

Redneck Lady Costume Prop Trailer Park Supervisor

Redneck Lady Costume Prop Shorts

Redneck Lady Costume Prop Cousin/Husband

White Trash Party Girl Costume
DIY your own Black T-Shirt with this…"Your Trailer or Mine?"
White Trash Party Outfit Ideas


Going to a Party? Get "YOUR MAN" involved, dress him up with some redneck duds. I love this whole outfit, both of them! Her T-shirt is Priceless!
"You Can't Afford Me!"
Her knock-off chanel bag is to die for, made of cardboard and duct tape. They're both wearing special VIP badges to get them into the party, "Redneck VIPEEE, Trailer Park All Access Admittance", just more duct tape and markers, simple! I just about had a laughing fit when I saw what he was wearing. His tighty whities DIY T-Shirt is the BEST Idea!
If you can get your better half to put that on as a shirt, you'll be the hit of the party for sure. Our Trashy gal in her blue jean overalls short-shorts are a nice touch and of course the fake teeth are a must!
White Trash Outfit Accessory Blonde Wig

White Trash Outfit Accessory Fanny Pack

White Trash Outfit Accessory Mullet Wig, Glasses and Bandana

White Trash Outfit Accessory Billy Bob Teeth

I hope this gave you some ideas for some Redneck Women Costumes For Halloween this year. I really had fun looking for things that would work. Have fun!
Happy Halloween!!