We may earn money or products from the companies mentioned in this post.
Dinosaur Themed Birthday Party
My boys loved to play with dinosaurs, it was their favorite thing to do when they were little kids. More times than I count they would ask me to give them a dinosaur themed birthday party. I have to admit it was really fun to party to plan. There's so many fun things you can do! I remember one year we had a scavenger hunt. I printed off a list for all the boys at the party to find around outside. The kids loved it!
I looked around and found all kinds of ideas for this theme.
These are super cute! Dinosaur birthday party invitations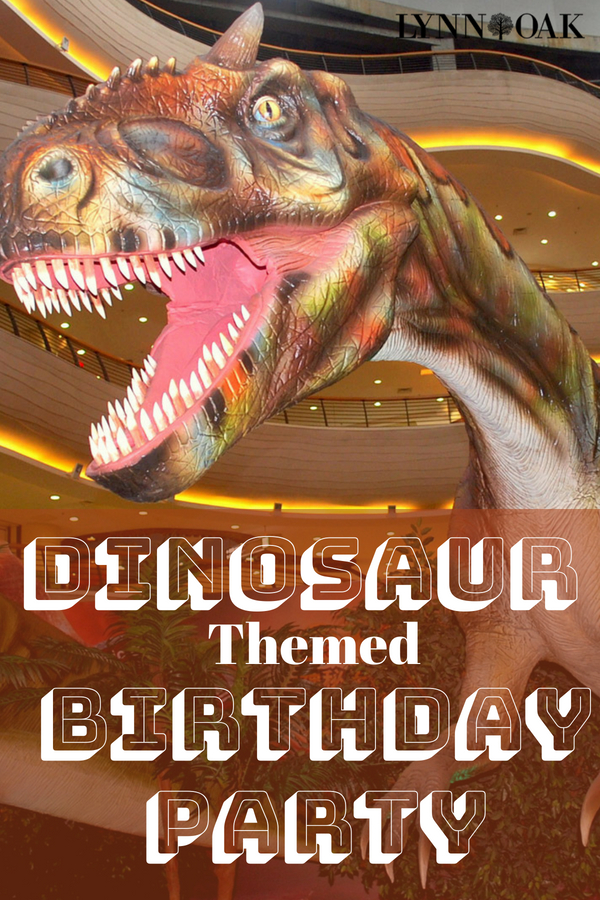 Dinosaur Birthday Party Decorations
I think this would be great place to have all the kids get their picture taken with the dinosaur! These blow ups are awesome and the kids would really love it. Just need to make the wall with lines of tissue paper flowers and then let the streamers fall straight down the wall, held with plain tape. These guys are awesome! After the pictures take them outside and let the kids play with them, tossing them around.
Inflatable Velociraptor Dinosaur

T-Rex Combo! Inflatable T-Rex and inflatable Brachiosaurus

Dinosaur Party Favor Ideas
I love this idea! Adopt A Dino!
Just fill a bowl full of these plastic dino's and then tie a ribbon around his neck with a name you or your child picked out. When the guests come they get to pick out a dino to take home. Awesome! The boys will love that!
[soc_button color='orange' size='normal' href='#' target='new' align='left']Cool Tip: Make sugar cookies, before you bake them add dino tracks by putting the foot of one of these little dinosaurs in the dough. Bake as normal.[/soc_button]
Adopt A Dino for Dinosaur Birthday Party

Grab A Bag of Bones!
This is super simple to do, just get some pretzels and a some white chocolate bars, melt them on a double broiler or melt them in the microwave, then pour the chocolate over the pretzels. Yummy! And they look like bones. I love these bags and don't forget to get the plates and napkins!
Dinosaur Party Gift Bags

Dinosaur Hanging Swirl Decorations

3D Dinosaur Happy Birthday Banner

Dinosaur Party Supplies For 16 Guest

I hope this will give you some ideas on your party planning, leave a comment if you have some other cool ideas!
Happy Dinosaur Hunting!
Lynn 🙂