We may earn money or products from the companies mentioned in this post.
Are you a looking to create a fun place to read in your home this year? I love comfy reading chairs to curl up in when I'm reading on my kindle. But what if you only have a small space and a big chair won't fit? I've found 10 of the best comfy reading chairs that are perfect for small spaces.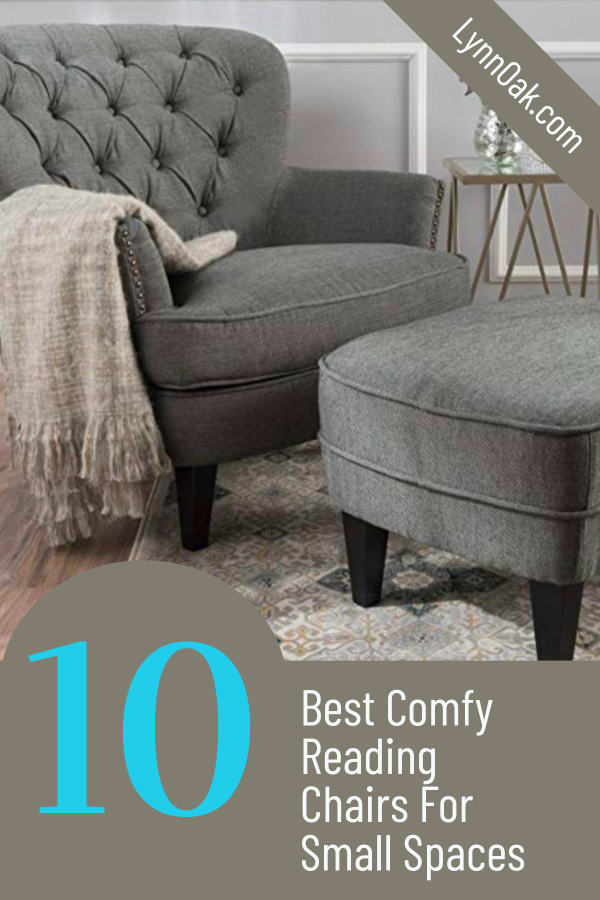 10 Best Comfy Reading Chairs For Small Spaces
If you're a big reader like me or maybe you decided to do a little more reading this year. I've found that if I'm really comfortable when I'm reading it creates a relaxing environment, a place where I can unwind and fully engross myself in what I'm reading. I can then tune out the world around me and step into whatever fantasy that I'm reading about and it helps me to escape for a while in my little world of my own. It's super fun and I highly recommend it to everyone. In order to do that you need to find that perfect chair. One that's comfortable and not too large that it takes over the whole room.But nice enough that you forget where you are when you nestle down in the chair for a nice relaxing read. Let's take a look at what I found for you today.
1. Christopher Knight Comfy Reading Chair with Ottoman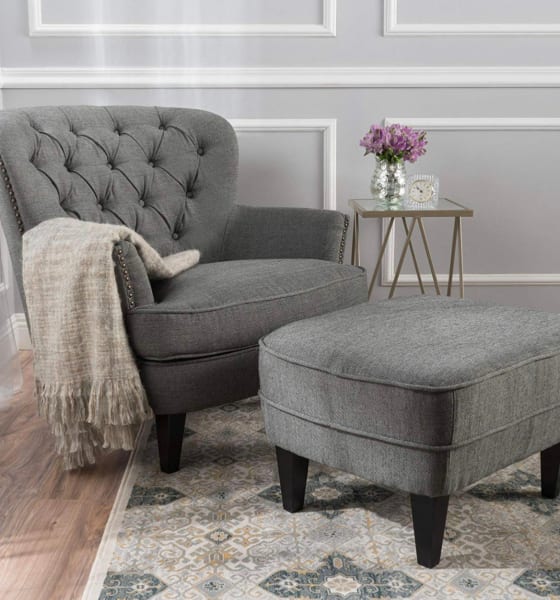 Christopher Knight Home Chair Grey With Ottoman

First on my list is this amazing folding chair. I love these type of chairs. They have everything going for it. For one it's portable, you can move it where ever you want. If you want to take your chair outside on your back deck for a read in the moonlight then you can take your favorite reading chair with you. A win, win on both counts.
2.Comfy Puffy Low To Ground Reading Chair
Low To Ground Comfy Reading Chair For Small Spaces

What I love about this chair is that it's low to the ground, you can slide this just about anyplace you want in the house. No matter if you're reading in your bedroom, because there is too much noise going on in the living room. Then all is good. You can just bring your comfy chair with you in any room you want to read where it's quiet. Just be sure to call dibs on the chair first!
3. Wicker Oversized Comfy Reading Chair
Papasan Comfy Reading Chair For Small Space

I love anything wicker and this is a great example of a small spaced chair for reading. I could sink into this chair and read for hours and hours. Just imagine this in your bedroom in the corner by a bookshelf with all your favorite books just a reach a way. And the hours of relaxing reading you'll be able to sneak in, if this was in your bedroom.
4. Mid-Century Modern Wood & Fabric Lounge Chair
Mid-Century Modern Fabric Comfy Reading Chair

Don't you just love the classic mid-century chairs, this one is really stunning. It is perfect fit for small spaces in your home. You can even make a full living room with just a couple of these chairs. It's stylish and will go with just about anything. Which means as your taste change over the years the chair will still be in style for many years to come. It's a wise investment and I could see many days of reading in this chair and I could get some knitting done too, when I listen to my audible books! Bonus!
5.Leather Recliner Reading Chair
Comfy Leather Recliner Reading Chair for Small Room

Now if you looking for a comfy reading chair that is a little more classy. How about this nice recliner? Perfect for that reading area in your living room. Just add a lamp and you're good to go. Not only is this one a little nicer but it would match almost any decor you already have in your home. Simple but stylish and comfortable.
6 Armless Accent Reading Chair
Armless Accent Reading Chair for Small Spaces

7
I really like the look of this chair, the gray color will go with many different decor styles. Very simple, yet gives off a more elegant style that's within a budget. A couple of these would look great in a living room that is simple, yet updated look.
7 Modern Upholstered Reading Chair
Modern Upholstered Reading Chair

Seeing lots of good reviews for this chair. Many people are buying two of them for the home office. Which is the perfect place for a reading chair. A nice quiet place to hide out and read for an afternoon. Theses are classic and come in many different fabrics to match you decor.
8 Christopher Knight Reading Chair
Christopher Knight Reading Chair For Small Spaces

I
I love this Christopher Knight Chair! One lady said she bought two for her small living room and she loves them. She said that she and her husband are both short, 5 ft and 5.5ft. and she loves that she can put her feet on the ground when she is setting in the chair. She said they are comfortable and stylish. Her company complements her on them and say they are comfortable for taller people as well. I would say if you're really tall this might not be for you. I love the design and bright orange color.
9 Mac Motion Orange Reading Chair For Small Spaces
Mac Motion Orange Comfy Reading Chair

Mac Motion Orange Comfy Reading Chair would be perfect for a kids bedroom. I'm loving the orange color. One person said she just love the chair and it was easy to assemble and the chair has durable fabric and was nice and comfy. It also swivels.
10 Christopher Knight Swivel Chair
Christopher Knight Swivel Comfy Reading Chair

If you're looking for something a little more elegant but also swivels. Then this is the one. It's not only elegant and will never go out of style but it's comfy too. Plus it swivels, which is a plus. If bought in a pair they would really be nice in your living room. One person bought two and she said she put them together herself in about 10 minutes. She was surprised at how nice they actually were and was very happy with them.
If you in the mood to do create a place to read in some comfy reading chairs. I hope you like this article and it helped you pick one that will help you relax and spend many wonderful hours indulged in your reading. We all need a little me time. Why not pick a new fun book to read and escape all the drama going on around you? Take a trip and live in the adventure of a handsome hero who saves a princess from the clutches of a mad man. Have fun!