We may earn money or products from the companies mentioned in this post.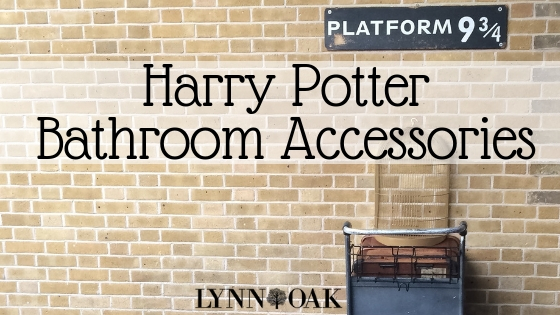 Are you a Potter fan? I am and so is my son! Not only did we buy all the books as they came out but he's been to many of the conferences and he just bought a ticket to next year's 10 year reunion of the first conference. He's also buying his first home and I thought it would be fun to buy him a few Harry Potter bathroom accessories to decorate his master bathroom.
He loves all things HP and I'd imagine most people who love the books and or movies, like decorating their room or home with magical things. The books are way better than the movies but the audio books by Jim Dale are soooo awesome. He does in all the voices and did an AMAZING job of it.
Love Harry Potter But No Time To Read them? You can listen to HP Books for FREE HERE!
To start decorating the bathroom, I thought we should paint the walls a maroon color and then add accents. The shower curtain would make the whole room and we could decorate around that, I picked the 9 3/4 one. I like it the best out of all of them. It's where all the magical things start to happen, a place hidden in plain site from the muggles.
Harry Potter Bathroom Shower Curtain Accessories

I'm loving this Platform 9 3/4 one and if you don't know what it means… then you're a muggle. 😉 What a cool addition to the shower. I love that it's plain but still if you love HP then you'll know what it is right away.
Harry Potter Bathroom Light Switch Cover

Hogwarts 9-3/4 HP Bathroom Accessories

These light switch covers are really awesome! Made of metal, very nicely made, loving the details of these, and they're made to look old and perfect for my project.
Harry Potter Toilet Sticker Bathroom Accessories

I looked around at several of these online and found that this one is the best, it just peels off easily and you then stick it to the underside of the toilet lid. Some of the others are overly complicated and you have to transfer it to another sheet and it's a mess. This one is simple to use and what a fun conversation piece for all your friends to comment on.
Harry Potter Marauders Map Beach Towel Bathroom Accessory

Harry Potter Gryffindor Beach Towel Bathroom Accessory

Then I found these big towels, he loves the big ones and we always loved the Marauders Map, so that's the first one I'm going to buy for him. Some of the others are not that great of quality so be sure and read the reviews if you look at any of the others online to buy.
I had Great fun picking out things for my son's bathroom, be sure to comment below if you have other cool ideas for Harry Potter bathroom accessories! I'd love to hear from you.
Michelle 🙂
You might also like:
Pin it for later!