We may earn money or products from the companies mentioned in this post.
Our Tiny Cabin in the Woods! Right in the middle of The National Forest!
I LOVE this cabin! This will be our Third tiny house type cabin we've built we call it a cabin. We cheated a little bit on this one as we had some of our amish friends build it for us on location. All the other ones we've owned, hubs built by himself when we had the big farm. We sold the farm a few years ago and it made both of us sad, hubby more than me because he spent so much time building the other two and having our customers come and stay or hunt in them. Not really my thing at the time. I was busy with the cricket biz back in those days and raising two boys so not much free time for me.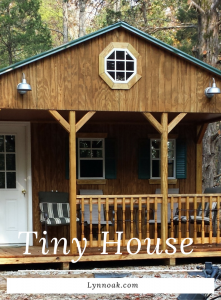 Let me start at the beginning with this cabin. My favorite tiny house of all time!
One winter after we retired, I watched hub sit on the couch for yet another day doing nothing, I mentioned that it sure would be nice to have a cabin we could go to and have friends over again. And that's all I had to say about it. He got out the 4-wheeler and took off around our 25 acres to see where he wanted to put his new cabin.
It took him most of the winter figuring out where he wanted to put it, meanwhile he built a nice trail in the woods around our house that winter, which made a nice place for me and the dogs to walk until the ticks come out in the summer.
He figured and plotted. I saw him sketching out where he would put the cabin and the firepit. Where everyone would park. He built little bridges over some of the dried creek beds so that he and his buddies could ride over on them their 4-wheelers it was super nice for me too, not having to jump over or get muddy. He had it all figured out. He knew right where to put his cabin, he cleaned up all the brush, and dead tree limbs that winter and used the firewood for the garage wood stove.
Spring came along and he thought maybe he should just buy a prebuilt cabin and save some time. That way he could just finish the inside by himself. So then that was decided and we started looking for a place to buy a prebuilt. We had a couple places in mind and after taking a trip to look at them, he picked the ones that was built here locally by some amish craftsman, they were much better made.
Now we decided on the building. He went back over our place again and decided to change his mind and have the cabin built on the other side of our property farther away from the road.
Good Choice as you can see by the photo that spot was PERFECT! Sometimes you just need to sit on the idea for a while and let some time pass before you make your move. So glad he did as the other spot was a lot closer to the road and our only neighbors who put in a pool, we would have heard everything that was going on and they would hear us as well.
This project not only helped get hubs off the couch but it is a super fun place to go and relax. Bonus it's not that far from the house, but you can't see it at all from our house, which is nice too! It's like taking a vacation without all the hassles of packing up your stuff. I just grab a bag, shove in my phone, my kindle, some snacks and the dog. I'm off!
I hope you like this story and it encourages you to build yourself a tiny house or Cabin as I call it.
Lynn 🙂
Photo taken by me (all rights reserved)