We may earn money or products from the companies mentioned in this post.
Meet Chip! The newest member of the family, she's 7 months old aka Bone Hunter. She loves to gather up all the bones and toys around the house and yard. Pile them in her STASH pile and dare anyone to even look at them.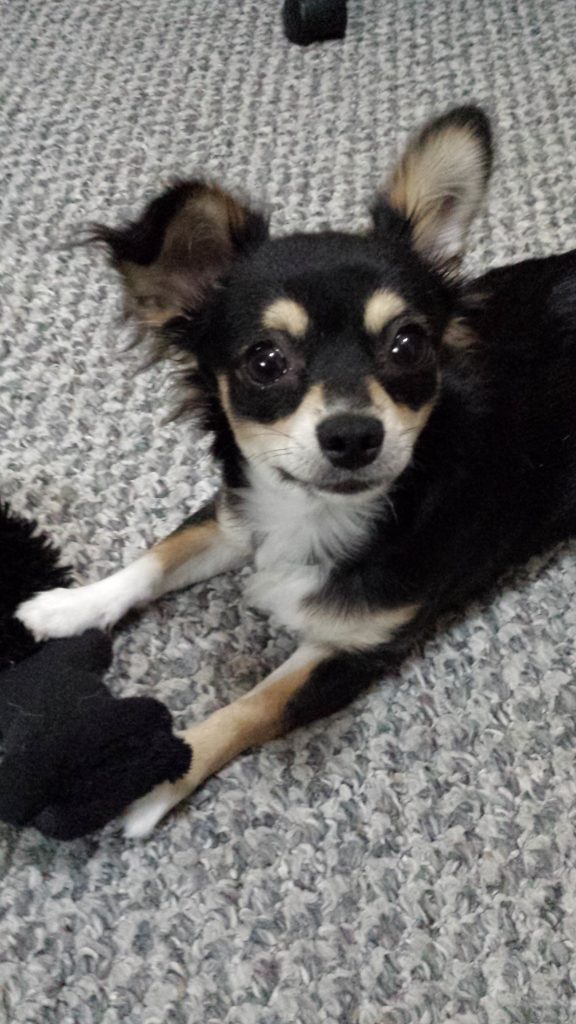 She is a handful also a personal shredder of all things paper. I can never keep any napkins
laying around or she has them in tiny pieces. I can't even go to the bathroom without her
almost knocking me down when I go in and shut the door.
The old dogs just tolerate her ADD personality. She is a long hair chihuahua and it
took a few months for her to get all her hair. At the moment her tail looks like a venus fly trap. Lol!
The first week we brought her home I walked her down to the cabin so she could get used to it, she
was pretty skittish so I wanted her to get familiar with her surroundings. SO glad we did that because just
a few days later, our big outside dog heard a deer in the woods and took off barking…so did the rest of my tiny chihuahua's.
The problem was chip was standing in front of the woods that the deer was standing and when my big dog Twinkle took off
it looked like she was chasing poor chip. I saw them all take off while I was washing dishes and didn't think anything of it,
all of my dogs are 10 years old or older and the chase usually goes to the edge of the woods and then they turn around and
forget about it.
An hour later I went to let them back in the house…NO CHIP!, Oh NO! I remembered the chase and took off to the woods. Remember in my other post I told you hubby has trails all around our house in the woods, I followed the trail and was calling for chip, but she was so scared she wouldn't come to me, and I was probably chasing her farther down the path.
Lucky hubs got on the 4-wheeler and took off to the cabin. She was sitting on the porch. Thank heavens! Living in millions of acres of forest does have a small amount of drawbacks. So glad she went towards the cabin and not farther into the woods.
Hope you enjoyed my little Chip story. I would love to hear about your favorite pet story in the comments below.
Lynn 🙂