We may earn money or products from the companies mentioned in this post.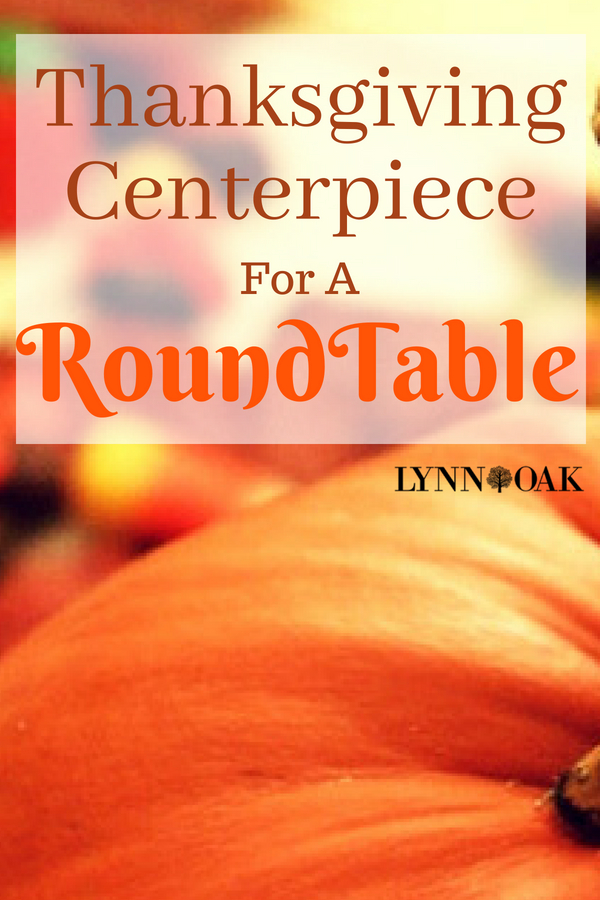 I have a round table and it's tough finding decor items for it, they are either too long or really big. Mine is equally unusual as it's attached to the center island. Which is really weird, but I live in a place where they make furniture and when they built the house someone must have worked at the factory, because it's like nothing I've ever seen before.
So you see how I would be in a pickle to find the right piece for it. I want something simple but with a fall theme. It's our turn to host Thanksgiving this year for our family. We take turns and that makes if nice that I don't have to cook every year. Some years we even eat out. But that's no fun, no leftovers to snack on.
I've been searching and searching at my favorite online retail shop to find the right Thanksgiving centerpiece for a round table, something that is festive but not too overwhelming. I've narrowed down my wish list to 5 pieces that I think would be awesome.
I have to be honest there's just not that much that really tickled my fancy. I found lots of cute things but none of them were really fall looking. I also had some things picked out only to find that they were really small. Like only 1 inch, that's way to small for my table and some of them were cheaply made or were broken when they got shipped. I stayed away from that item even though it was really cute!
Of the 5 things that I found, I looked at the size, after reading that some of the items were so small they wouldn't work out for me. I read all the reviews and pick the items that looked festive and would be cute holiday decor pieces that I could use year after year.
I'll share my wishlist with you below.

A Round Table Cornucopia Thanksgiving Centerpiece


When I think of Thanksgiving I think of Cornucopia's, we always used to get to color those each year in school. A day when we didn't have to do school work but color all day. Super fun for me, being a little bit of a creative person. That's why I love them for the holiday's.
This one has all the harvest colors, with a pumpkin, maple leaves and grapevine cornucopia will go with my farmhouse decor theme I have in the house. It's festive, it's fun and it's Beautiful! I won't have to do anything else as far as decorating the table, this will be it, just set the table with my nice china and everyone will enjoy the decoration, getting them in the festive spirit before we eat the big meal.

Thanksgiving Centerpiece Pumpkin Ceramic Bowl Set For a Round Tabletop


I love pumpkin's for Thanksgiving because you can leave them out for Halloween too! Two holidays for one. I love that! I think these are super cute, they come in a metal holding tray that the pumpkin bowls set in and you can hide your stash of candy them. Sweet! My Dad has a sweet tooth and is always sneaking candy before the meal. He will love it when I show him where I hid the candy this year. He can sneak all he wants. :-)

Burlap Sack with Fall Flowers Round Table Decor Piece


I love the colors of the artificial poppy flowers in this arrangement, it will be perfect! It's festive, colorful and it won't be overwhelming on the table. I even read that someone put this arrangement on her patio and it stayed out there all year in the snow and still looked good the next spring. That's impressive!

Pilgrim Thanksgiving Figurine of Mother Farther Child For Round Tables


I love this Pilgrim figurine, hand painted Father Mother and child each holding some type of item from the harvest, pumpkin, turkey and wheat. The hand carved look gives it a vintage feel to it and the colors are perfect decor piece for me this year. Pilgrims are history for us and it's important part we should never forget, celebrating the harvest is what Thanksgiving is all about. See how hard it is to pick just one?!