We may earn money or products from the companies mentioned in this post.
I went to Rock Poop Island today!
Yep, You heard me right. But you'll have to read all of this to find out more. The picture is the rock we found
and now proudly sits in my garden of other poop rocks. September is our Birthday month, hubby and mine. Virgo's both of us.
Don't you get depressed when it's your birthday? I blame my parents, it's totally their fault.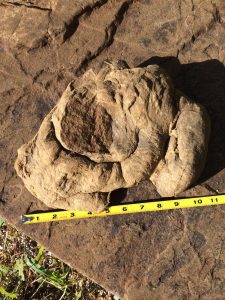 All the Big build up before your birthday, "better be good, your birthday is coming up". Then
the day of your birthday and everyone has to be super nice to you and you get cake and presents.
Fast forward some 40 years…No cake…No presents and sometimes everyone forgets!
We've both been kinda depressed lately so I declared it a "DAY OFF" which I can do because, I'm just that
awesome! And we've been self employed all our married life, which is well over 35 years now, and we have
been semi retired for 5 years now. We used to raise crickets for a living, but that's another story altogether.
Our current gig now is selling on ebay. Anyway! Back to Rock Poop Island!
We live out in the boonies, I mean big time. At the end of our drive use to have a one room schoolhouse on it.
That's long gone now, but I think it's super cool. We also live in the middle of the Hoosier National Forest and
we're back a dead in road that used to be the main road to our little town, it's a old road with big tree's on each side,
the road now just dead ends at the creek. They moved the main highway ages ago, our little gravel road is now home to campers
along the little creek.
We like to take the dogs walking on the road as there is no traffic, unless you count a couple of cars on the weekends going back to
their campsites. OH man! I keep getting off topic.
Well today I woke up and found hubby in a depressed mood and I knew he had been wanting to go rock hunting down the creek
before all the leaves get off the trees and make it hard to see the rocks to find fossils or even if you're lucky an arrowhead.
Yep we had indians in our neck of the woods too, back in the day.
So I gave the dogs a bunch of treats, to keep them busy while we were gone, and we headed out with plenty of water and some snacks in our backpacks, hopped on the 4-wheeler. We could have walked but we figured that we would be too tired to make the walk of about a mile UPHILL after traipsing around in the creek all day and with our backpacks full of rocks that we would find.
I would later really thank hubs for thinking of taking that 4-wheeler after I had to carry the heaviest rock in my backpack most of the day.
I'm not much of a rock hunter, but hubby is and used to find arrowheads when he was little. My flower garden is full of different rocks he has brought home over the years. He loves it and I wanted to get out of the house and get some exercise. Win, Win for both of us!
Way back in following the creek bed for a zillion miles (Hub says it was about 3 miles but to me it might as well have been longer). He hit paydirt. or Poop! Seems we live in an area where the Wooly Mammals lived and in some areas you will find a bunch of crazy fossils from that era and he is fascinated by that poop. Lol! Aren't most men.
He's always showing me rocks that look like poo! Cracks me up. The day was a Great success! Not only did we find a great big rock of Poop in the spot in the creek bed that I will always call Rock Poop Island! I also found a rock shaped like a heart and some buckeyes (which are lucky) Yeh me! Hub found me an awesome walking/spider web knocker downer stick that was once in a beaver dam. Super cool!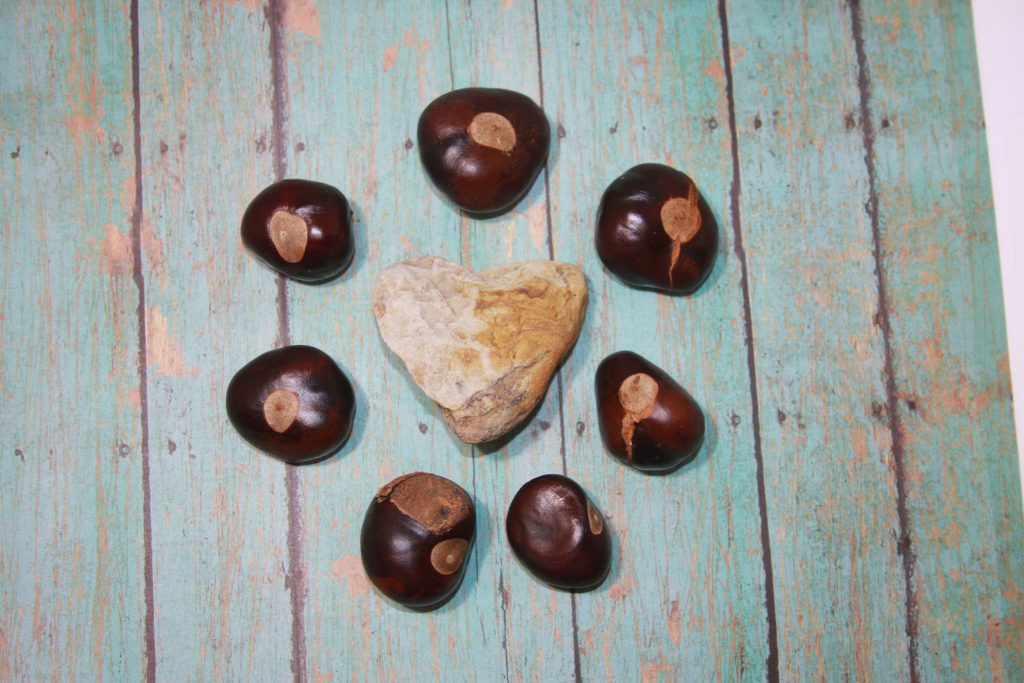 The best thing was we felt so much happier when we got home, even today the memories of yesterday still shine bright in our hearts. I highly recommend if you're down in the dumps. Go Outside! It will brighten your heart too!
Michelle 🙂