We may earn money or products from the companies mentioned in this post.
This is my morning routine which is so much different than when I raised crickets for a living. I used to have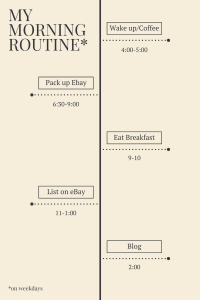 something like the graveyard/early morning wake up day. I used to start my day at 3 am each day. I sometimes would beat my neighbor down the road to work, he milked his cows around the same time. So glad those days are far behind me.
Now I just can't stay in bed past 6 am. Getting up that early has many advantages. For one I'm all alone in the house. I let the dogs out and fix my first cup of joe and head down to my dragon den, aka basement and start the day. First checking my email to make sure no one had a ebay panic attack last night after I shut off my phone. If all is good and no customer problems, then I work on whatever fun project I had going at the time.
For the past month I would get up and sew little keyfobs for a festival we did at the beginning of the month. Which by the way was a total bust! I have a zillion things I made and didn't sell anything. Guess I'll have to put some of them in my etsy shop soon.
Now I'm getting away from all things crafty for a while and setting up this blog and a blog for my ebay biz. Which I love doing! Just me and the dogs sitting in the quiet of my office, deep in the cool climate of the basement. My home, a place where I can be and do whatever the heck I want to. If anyone visits me, I know it for the stomping down the stairs and then they have to go down the hallway to get to my room. AWESOME! I love my basement!
After a bit then It's time to get cracking on packing up my sold ebay items. Which I love doing too! After 25 years of packing up bugs. Packing up items that don't jump all over the place and make me smell like…( well you just don't want to know that smell, trust me). I do change out of my PJ's and into some comfy pants. Then I put my ebay packages all outside for my mail lady to pick up. SWEET!
Eat breakfast, wash dishes, let the dogs back outside for a while and start the day of listing new items on eBay. After I get that done. I'm free as a bee! I can go to our tiny house cabin. I'm not sure what I might do, sometimes we go to town on a buying trip to the local vendor mall. Who knows!
Yesterday we found out that our friend had a major heart attack, he's only 50 years old. So we dropped everything and drove for over an hour to the hospital to see him. That's what I LOVE about being self employed. No worried if you can't work for the day, your free to go visit sick friends or stay in bed all day, but you can't do that everyday or you won't make any money. 🙂
I highly recommend it to each and everyone! I wouldn't do anything else.
Some of our stay at home jobs didn't pan out, most of them didn't. But the ones that do are friggin Awesome! Like the crickets, that job lasted over 25 years and I made a bunch of money doing it and I was able to stay at home with my boys. I'm so grateful for that time, because sadly I lost my oldest when he was just 24 years old. You can't get back time, and it is NEVER the right time to do anything. You just have to do it! And make memories that's all you will have if you lose someone you love. I hope you enjoyed this little look into my life today.
What Is your Morning Routine?
Lynn 🙂