We may earn money or products from the companies mentioned in this post.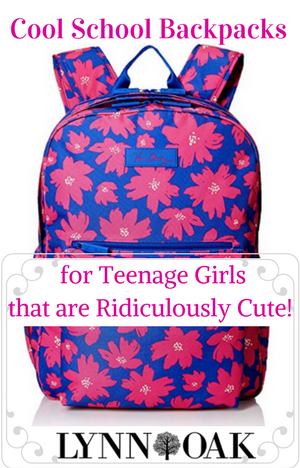 It's that time of year again! Is it me or did the summer just fly by?! I found some Cool School Backpacks for Teenage Girls that are Ridiculously Cute! You will be the cat's meow if you head back to school with one of these babies strapped to your back.
I'm a big fan of Vera Bradley and she has some really cute backpacks that have come out this year. I can't wait to get my Vera Bradley Fall Preview catalog in the mail and she didn't fail me this year. I just love all the new colors for this fall. Have a look with me as I show you what I found on my favorite online store. You can usually get a great deal on older patterns, just keep checking until you find one that you like that is on sale.

Vera Bradley Campus Tech Backpack


I love the patchwork pink colors of this backpack. Standard size of 12" x 16". Room for your phone and books, with the zipper compartment in the front.

Vera Bradley Leighton Backpack


This is one of my favorite light colored backpacks. I also like the bigger size pockets on the sides. This one is a little bit bigger but lots of compartments. Everyone just raves about it and you can pick different patterns in this same design. Which is awesome!

Vera Bradley Leighton Backpack


This is the same design as the one above only this is a favorite to buy. It's black with rose pattern which I noticed a lot of people bought and said they would buy another one in a different pattern, they loved the style so much.